Weekends with Yankee
The cities, countryside locales and unique attractions of New England.
1 Season,

13

Episodes

April 1, 2017

Cast:

Amy Traverso, Richard Wiese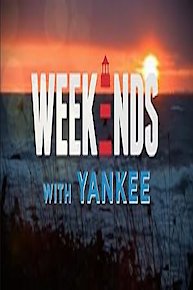 Weekends with Yankee Full Episode Guide
Episode

13

-

Winter in New England

The Season 1 finale spotlights New England during winter. Included: a horse-drawn sleigh in Jackson, N.H.; and cross-country skiing on a pristine trail in northern New England. Also: a culinary tour of Boston with chef Barbara Lynch.

An autumn tour of New England features New Hampshire's famed Kancamagus Highway, one of the region's most scenic drives; and Kent, Conn., which Yankee magazine calls the region's best foliage town. Also: Vermont cheesemaker Allison Hooper.

Episode

11

-

Quintessential Villages

Stockbridge, Mass., home of the Norman Rockwell Museum, is toured. Also: Woodstock, Vt., home to the ultimate general store, Gillingham & Sons; and Biddeford, Maine, home to the Palace Diner.

Episode

10

-

Back to the Land

The Well at Jordan's Farm; Connecticut's Grace Farms; fly-fishing with artist and writer James Prosek.

Historic gingerbread cottages on Martha's Vineyard in Oak Bluffs, Mass.; photographer Jerry Monkman's favorite spots in Maine's Acadia National Park; shiitake mushrooms.

Episode

8

-

Yankee Ingenuity

Shelburne Farms includes 1,400 acres of farmland and historic buildings on Lake Champlain; Mount Washington Cog Railway; Strawbery Banke museum along the Piscataqua River in Portsmouth, N.H.

Episode

7

-

Land and Water

WaterFire festival in Providence, R.I.; Squam Lake in New Hampshire; Westport Rivers Winery in Massachusetts.

Episode

6

-

Icons of New England

The Elms in Newport, R.I.; Glass House in New Canaan, Conn.; Olneyville New York System, a Providence, R.I., restaurant.

Episode

5

-

Lost and Found

An artist makes glass orbs on Block Island, off the coast of Rhode Island; an orchard of heirloom apples in Dummerston, Vt.; Isabella Stewart Gardner Museum in Boston.

Episode

4

-

Celebrating Tradition

A cruise on the J. & E. Riggin schooner along the Maine coast; head of the Charles rowing event in Boston; the Shelburne Museum in Vermont.

Episode

3

-

Buried Treasure

Photographer Joel Woods captures life aboard a lobster boat; oysters in New Hampshire with chef Jeremy Sewall; the world's only authenticated pirate ship.

Episode

2

-

Adventure in the Wild

The Northeast's highest peak; Atlantic bay scallop; Maine's Moosehead Lake.

The beach town of Ogunquit, Maine; a clambake near Acadia National Park; traditional boatbuilding in Newport, R.I.
If You Like Weekends with Yankee, Then Try...