Watch Me Before You
---
Me Before You is a 2016 romantic drama about two people finding out that love can be unforeseen at times. The movie takes place in United Kingdom. It is adapted from JoJo Moyes' novel. Louisa Clark, who is one of the main characters, loses her job as a waitress and is unsure what her next move is. Clark is faced with competing with her highly-ambitious and successful sister and not having many alluring qualities to be a big contender in the job market. Louisa Clark also is in a relationship that is non-beneficial to the stress that is happening. She is clearly unaware of her next move and in a sense, desperate for light at the end of the tunnel.
Will Traynor is a wealthy man who has little to no issues. He enjoys living lavishly and riding his motorcycle. Unexpectedly, he gets into an accident. The accident leaves Traynor paralyzed. He is forced to hire a caretaker.
The two worlds collide when Clark is hired to take care of Traynor. Both are in need and can offer each other Clark and Traynor fall in love with each other. Unforeseen events lead them closer and closer. Universal laws of attraction are evident as the two become acquainted.
|
2016
|
1 hr 50 min
|

/

10
Cast

Studio

Director

Thea Sharrock

Language

English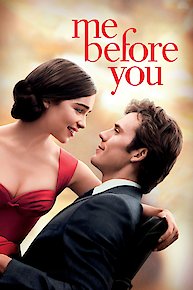 Me Before You News
New Movies June 3: Turtles, Pop Stars and Emilia Clarke
X-Men: Apocalypse is probably not going to be able to savor its time atop the box office chart, since there are mutant turtles coming to town this weekend, and they've got their eyes on the number-one spot.

Watch Me Before You Trailer
Watch Me Before You Online - Watch online anytime anywhere: Stream, Buy, Rent
Me Before You is currently available to watch and stream, buy, rent on demand at Google Play, iTunes online.